2023 SWSCC Educational Day
Speakers & Bios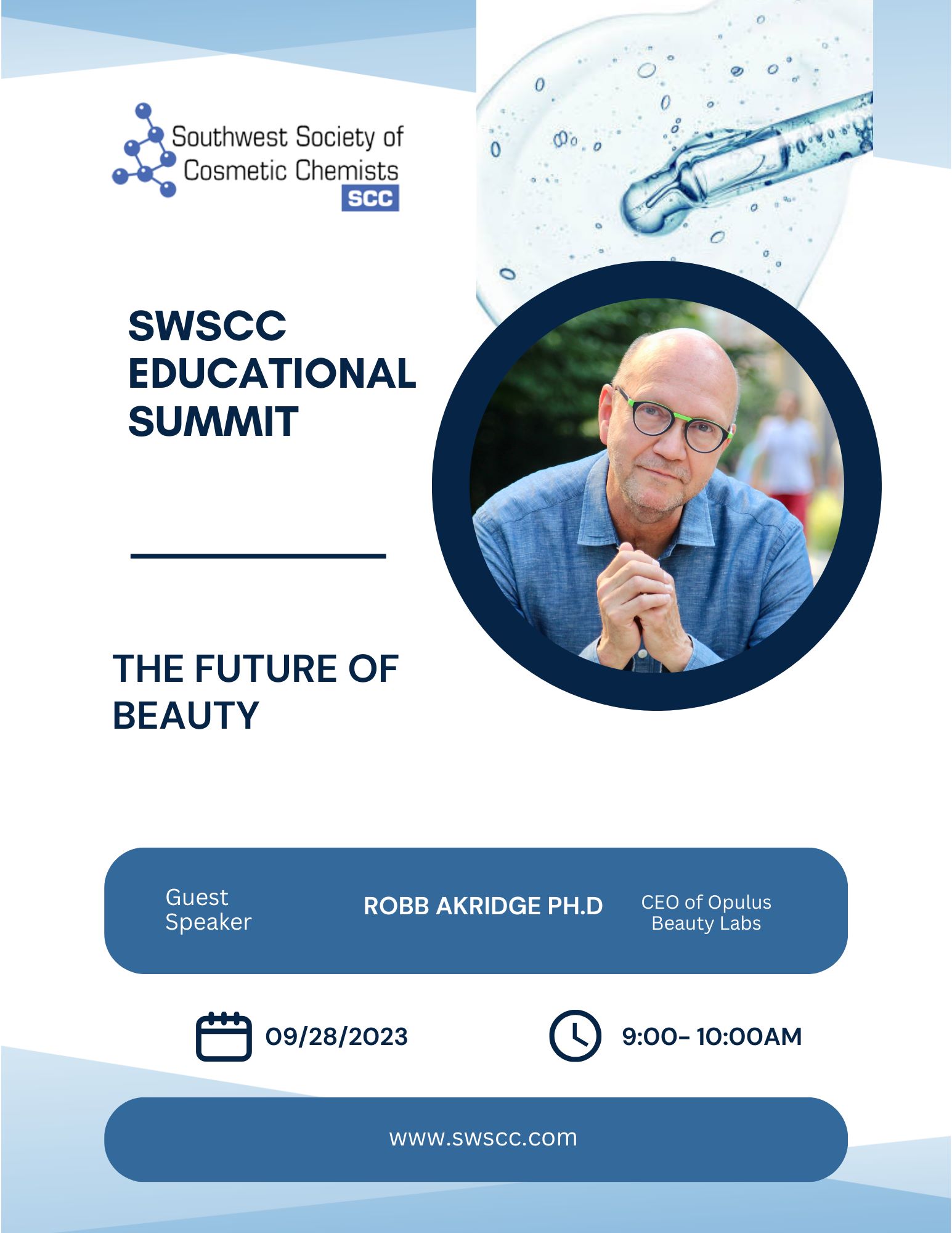 9:00-10:00AM Future of Beauty
Robb Akridge, Ph.D. founder/CEO of Opulus Beauty Labs
In addition to creating and managing his latest venture, Opulus Beauty Labs; Dr. Robb has had an exciting career. Co-founder of Clarisonic, Dr. Robb helped develop clinically proven sonic devices that make a clear difference in skin health and appearance. While at Clarisonic, Dr. Robb held several positions: initially as VP of Clinical Research and later as Global Brand President and Global Brand Representative. Dr. Robb obtained his BS in Biology (UT, Austin), MS in Botany/Mycology (Texas State), and his Ph.D. in Microbiology (Immunology and Infectious Disease, Texas A&M). With over 25 cumulative years in medical and global health, including10+ years spent on HIV/AIDS research at the FHCRC/UW network. He was also a senior scientist in oral healthcare during the early days of Sonicare®. Robb is a member of many professional organizations, including the American Academy of Dermatology, and the Independent Beauty Association (board member).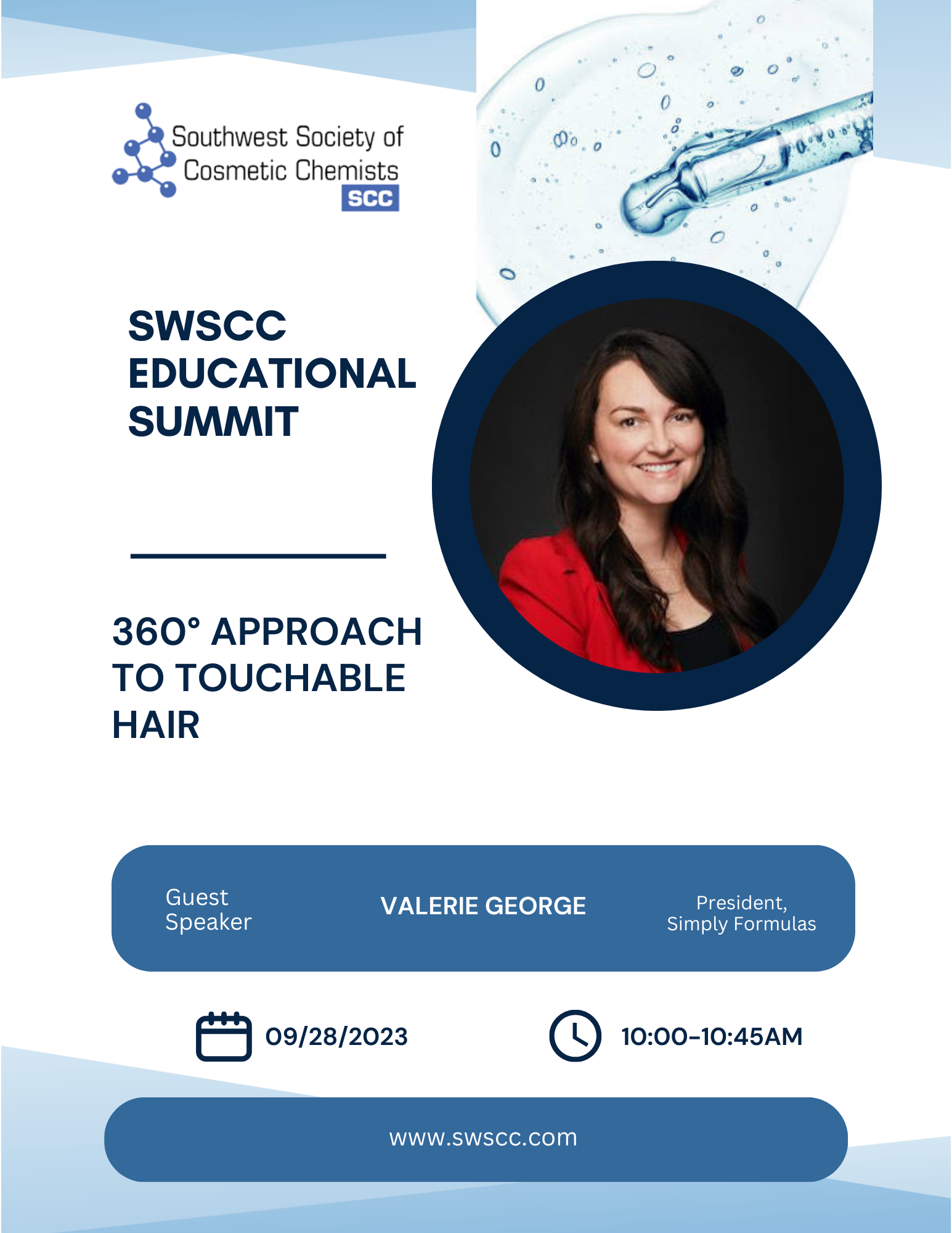 10:00-10:45AM 360° Approach to Touchable Hair
Valerie George, President, Simply Formulas
An award-winning cosmetic chemist and speaker, science communicator, educator, leader, and avid proponent of transparency in the beauty industry, Valerie George formulates for and lends expertise to brands as President and Chief Creator at Simply Formulas. Previously, she worked on the latest research in hair care and color formulations as Executive Vice President of R&D at a leading salon brand. Valerie is currently a national board member for the Society of Cosmetic Chemists and was the past chair for their Committee on Scientific Affairs. She additionally volunteers on the Governance and Regulatory Committees for the Independent Beauty Association. Valerie is a two-time past chair of the California Chapter of the Society of Cosmetic Chemists and is a recipient of the lifetime California Chapter Merit Award for her services to the Society. With more than a decade of beauty industry experience, she is a contributing editor at Happi Magazine and the co-host of The Beauty Brains podcast. You can find Valerie on Instagram at @cosmetic_chemist.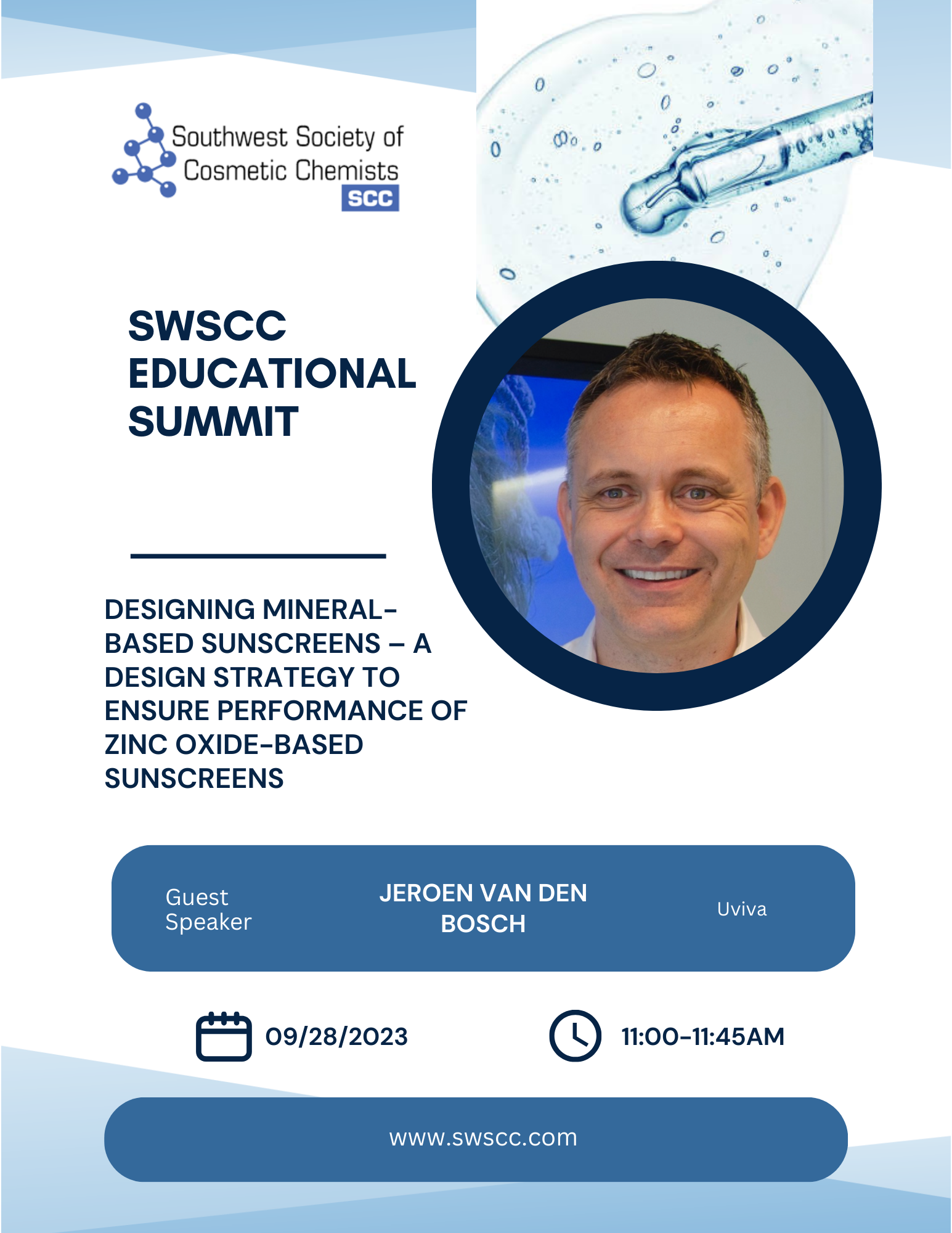 10:45- 11:30 Designing mineral-based sunscreens – a strategy to ensure performance of zinc oxide-based sunscreens.
Jeroen van den Bosch, Uviva Technologies
Jeroen has been involved in the development of ultrafine zinc oxide products, applications, and regulatory approvals for close to 25 years. He started his career in an R&D capacity at Umicore where he focused on the development of a range of zinc oxide products for sunscreens and industrial applications and the development of dispersion and particle sizing techniques for nano-sized materials. From R&D he moved into various business development roles with a focus on sunscreen applications and has been responsible for the growth and development of what later became EverCare. He is now heading up Uviva technologies which offers innovative suncare products to the market. Jeroen was one of the driving forces in the Cosmetics Europe consortium responsible for the approval of zinc oxide as UV filter in Europe back in 2012 and has been involved in various discussions and working groups at European level.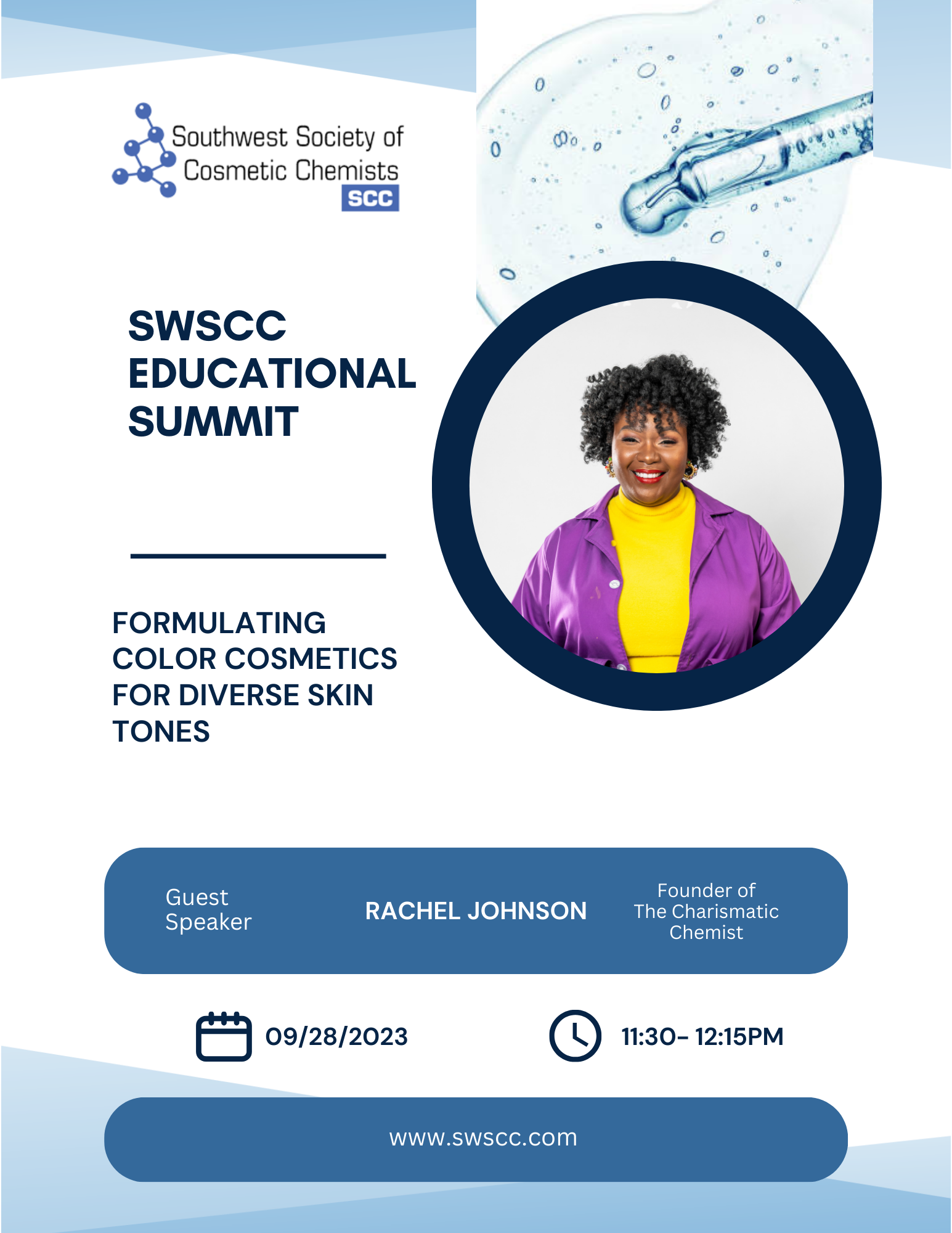 11:30- 12:15PM Formulating color cosmetics for Diverse skin tones
Rachel Robertson Johnson, Founder and Chief Cosmetic Chemist, The Charismatic Chemist
Rachel Robertson Johnson is the Founder and Chief Cosmetic Chemist, The Charismatic Chemist, a formulation consultancy. has served the cosmetic industry for the last 9 years as a cosmetic chemist in the contract manufacturing sector. Throughout her career, she has formulated skincare, color cosmetics, and over-the-counter products for more than 500 growing beauty brands. Her ability to provide cutting-edge solutions for clean, organic, and natural formulations has awarded several beauty innovation awards. Her work and accomplishments thus far, have recently afforded her the honor of receiving Valdosta State University Distinguished Alumni Award. She currently offers custom product formulation and consulting services to help growing beauty brands thrive.
1:30 - 2:15PM Around the World in 30 minutes: Global Cosmetic Regulatory Updates
Dr. Cristi Gomez Mary Kay
Cristi Gomez is part of the Mary Kay Research & Development organization since 2003, Dr. Gomez leads the Global Regulatory Affairs, Product Safety & Toxicology, and R&D Compliance teams. Dr. Gomez obtained her doctorate from the University of North Texas and completed her master's and bachelor's degrees at Texas A&M University. With over 20 years of experience in product safety and product stewardship, she has contributed to a variety of scientific abstracts and publications with an emphasis on applied use of new approach methodologies (NAMs).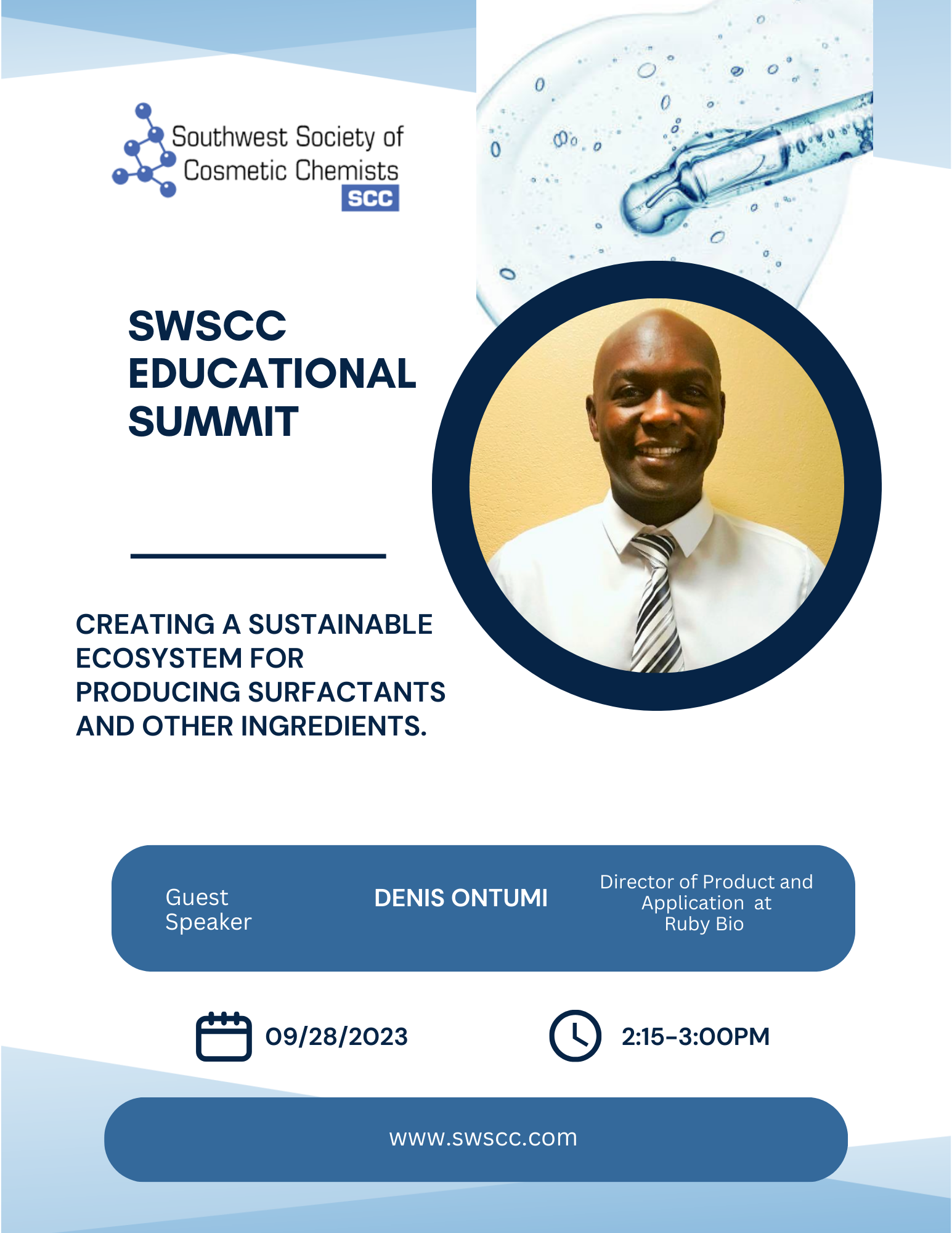 2:15 – 3PM Creating a sustainable ecosystem for producing surfactants and other ingredients.
Denis Ontumi Ruby Bio

Denis is a results-driven leader with extensive experience building and leading R&D innovation strategies for global consumer-focused companies, with a track record of leveraging innovation to deliver strategic business value. Over the course of 10+ years in R&D leadership that include roles at BASF, Colgate, SC Johnson and currently at Ruby Bio, he has proven adept at navigating through complexity and driving transformative change to enable future success. He has championed sustainability to drive profitable growth, spark innovation and improve productivity. Denis is an author/co-author and publisher of 15 scientific publications and 17 patents. Denis holds an MS in Molecular Biology from Montclair State University. In his spare time Denis enjoys traveling and has visited more than 20 countries and counting.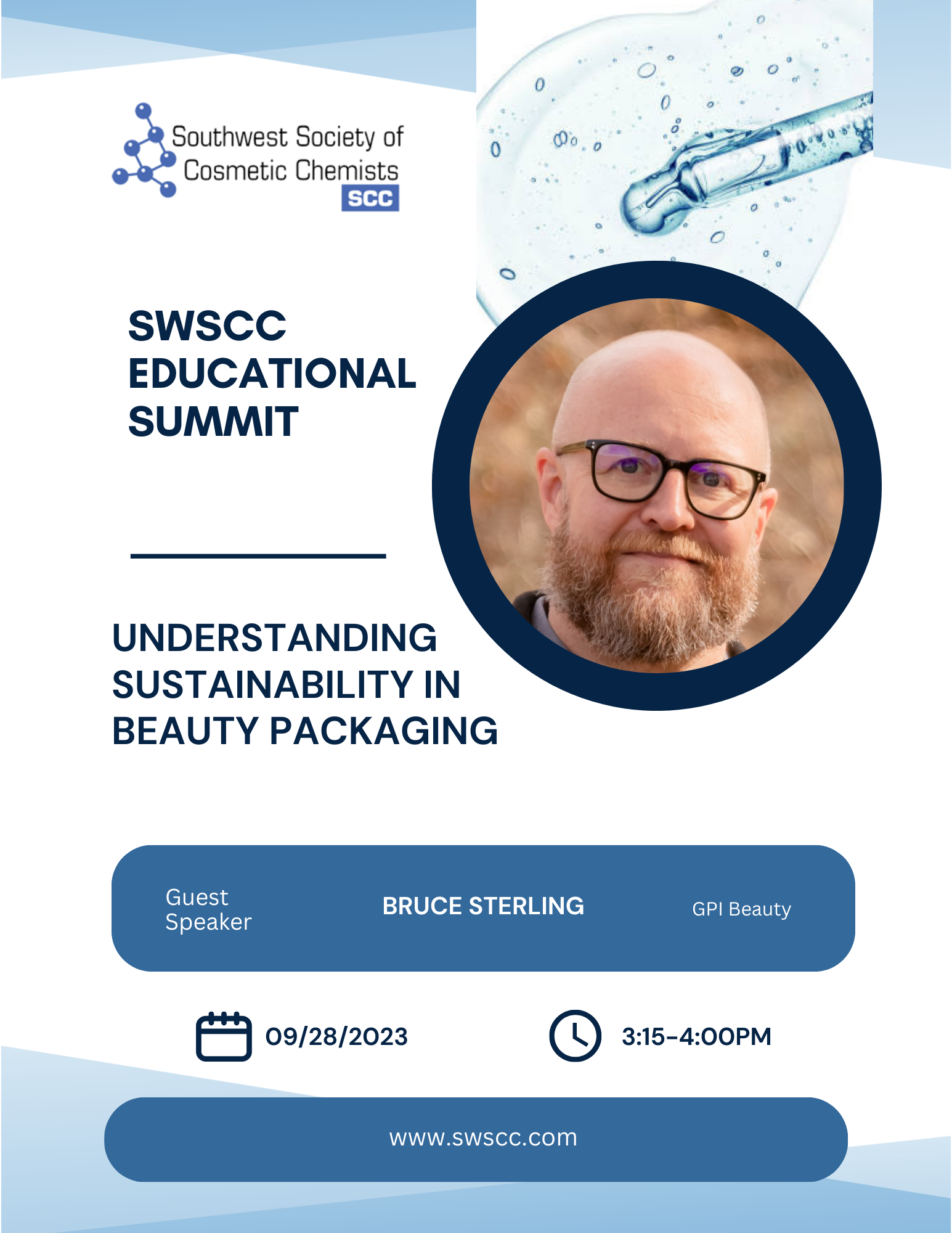 3:00 - 3:45PM Understanding Sustainability in Beauty Packaging
Bruce Sperling GPI Beauty
Bruce has devoted his entire career to the beauty and personal care industry. With nearly three decades of experience in project management, brand development, manufacturing sales, and distributor sales, he has established himself as a trusted and respected expert in his field. Throughout his career, Bruce has remained deeply passionate about sustainability in both manufacturing processes and packaging. He believes that the beauty industry has a responsibility to create products that not only make people feel good but also positively impact the environment. One of Bruce's proudest accomplishments came during his time with CCL Industries, where he played a key role in commercializing the first extruded PE tube with PCR content. This innovative packaging solution marked a significant step in reducing the industry's carbon footprint, and Bruce was honored to be a part of it. Similarly, during his tenure with Worldwide Packaging, he spearheaded the launch of a unique tube design that featured a 20% reduction in plastic and over 90% reduction in carbon emissions associated with production. In 2023, Bruce joined GPI Beauty, a California-based custom packaging and turnkey solutions provider, as the company's EVP of Sales and Business Development. He continues to push the envelope in pursuing innovative and sustainable packaging solutions. Bruce believes that through his work, he can help make a positive impact on the beauty industry and the world.
Event Properties
| | |
| --- | --- |
| Event Date | September 28, 2023 |
| Event End Date | September 28, 2023 |
| Cut off date | September 26, 2023 |
| Location | Omni Las Colinas |